Cartagena Airport Arrivals (CTG)
Not all flights may be showing. If not available use search above to find your flight by airline, airport or flight number.
Origin
Airline
Flight no.
Scheduled
Est./Actual
Status
Bogota (BOG)
Wingo
P57226
04:50
Scheduled
Bogota (BOG)
KLM
KL749 expand_more(1)
05:30
Scheduled
Bogota (BOG)
Air France
AF3171
05:30
Scheduled
Bogota (BOG)
Avianca
AV9552 expand_more(1)
05:35
Scheduled
Bogota (BOG)
GOL Linhas Aereas
G36727
05:35
Scheduled
Bogota (BOG)
Avianca
AV9798 expand_more(1)
06:38
Scheduled
Bogota (BOG)
GOL Linhas Aereas
G36730
06:38
Scheduled
Bogota (BOG)
LATAM Airlines
LA4100 expand_more(2)
06:45
Scheduled
Bogota (BOG)
Aeromexico
AM8723
06:45
Scheduled
Bogota (BOG)
Delta Air Lines
DL6026
06:45
Scheduled
Miami (MIA)
Avianca
AV107 expand_more(1)
06:55
Scheduled
Miami (MIA)
United Airlines
UA6662
06:55
Scheduled
Bogota (BOG)
Avianca
AV8552 expand_more(1)
07:17
Scheduled
Bogota (BOG)
GOL Linhas Aereas
G36725
07:17
Scheduled
Santo Domingo (SDQ)
Arajet
DM3442
07:20
Scheduled
Medellin (MDE)
Wingo
P57602
07:28
Scheduled
Bogota (BOG)
Avianca
AV9752 expand_more(1)
07:47
Scheduled
Bogota (BOG)
Turkish Airlines
TK9274
07:47
Scheduled
Medellin (MDE)
LATAM Airlines
LA4294
08:08
Scheduled
Bogota (BOG)
Avianca
AV9610 expand_more(1)
08:17
Scheduled
Bogota (BOG)
Iberia
IB7856
08:17
Scheduled
Bogota (BOG)
LATAM Airlines
LA4114 expand_more(2)
08:29
Scheduled
Bogota (BOG)
Aeromexico
AM8775
08:29
Scheduled
Bogota (BOG)
Delta Air Lines
DL6045
08:29
Scheduled
Miami (MIA)
American Airlines
AA1003
08:40
Scheduled
Bogota (BOG)
Avianca
AV9546 expand_more(1)
08:44
Scheduled
Bogota (BOG)
Iberia
IB7859
08:44
Scheduled
No flight arrivals were found at Cartagena Airport.
Flight Arrivals at Cartagena Airport
While challenges may arise, it is best to plan from Cartagena Airport, mainly if you use some form of public transportation. It makes sense to go out with more excitement than usual.
Consider the potential delays caused by rush-hour traffic, protests, strikes, or other events when using a taxi or private car service to travel to the airport. It is always a good idea to educate yourself on local events.
If the firm is delayed, please get in touch with them if you use a shared transfer service. This kind of circumstance frequently entails a specified timeline for collecting. You must be familiar with the routes, the transfer times, and the boarding procedures while using public transportation (service is frequently condensed on weekends and holidays.)
Being aware of them allows unpleasant surprises and pointless delays to be avoided. Before heading to the airport, know where to get or return your rental car. Rental cars are permitted to park in a particular location.
Rental Car Services at Cartagena Airport
With the help of our rental car services, you can leave the hassle behind and get moving right away. You may find the ideal car for you in our sizable fleet. We have spacious SUVs for weekend getaways outside the city and city-friendly compacts. We offer discounted and exclusive offers for those who book with us online.
To book your car rental, get in touch with us right away.
Taxi Services at Cartagena Airport
There are two authorized taxi stands at the airport, one in each terminal. At the critical exits of the nation and the world, lines form. The cost to get to the city center from Cartagena Airport is anticipated to be about COP 15,400 and to get to Bocagrande to COP 21,800.
A trip into the city center from Getsemani could take as little as 10, from Bocagrande as much as 15, and from the outskirts as much as 20 minutes. See more information about taxis at Cartagena Airport.
Only authorized taxis should be used because their prices are consistent across the city.
Train Services at Cartagena Airport
There are no train stations in the Colombian city of Cartagena. While you're here, kindly avoid walking around and using taxis, ridesharing services, or hired cars. More information about train services near Cartagena Airport.
Bus Services at Cartagena Airport
The Metrocar buses are an additional means of public transportation in the area. They link the airport to the center of the city. You can only take Line B on this trip.
The average ticket to the hub is about COP 2,000. Between 6:50 AM and 11:45 PM, regular transports to the city are made. More information about buses to and from Cartagena Airport.
Hotel Shuttle Services at Cartagena Airport
Take the hotel shuttle when you arrive at Cartagena Airport. You can unwind because shuttles transport you to and from the hotel and airport. To find out who the finest provider in your area is, check with the information counter at your airport.
If you want to know if this service is offered at the hotel you have selected for your stay, please visit our hotel page.
Rideshare Services at Cartagena Airport
There is no need for a complete stop because services like Uber are always available (since it is for authorized taxis). Therefore, after the transfer request has been fulfilled, the pick-up location needs to be coordinated with the driver via the app.
Taxis are more expensive, but these vehicles won't wait for you outside the station.
Parking Services at Cartagena Airport
Imagine you are traveling to this airport in Cartagena, Colombia. If so, there are plenty of parking spaces available close by. If you need parking for a few hours or months, there is an option that will work for you.
For pick-ups, passengers can use the nearby short-term parking lot. Parking is free for the first 30 minutes; after that, each extra hour costs COP 2000. A daily limit fee of COP 10,000 is also charged.
Check out our parking page for more information.
Other Services at Cartagena Airport
Duty-free shopping, a range of eateries, and bars are available to passengers at the Cartagena Airport. A bank, ATMs, and a currency exchange are open at the airport. The entire terminal has Wi-Fi access.
Disabled Passengers at Cartagena Airport
Since acquiring IATA accreditation, Cartagena Airport has improved accessibility in several ways, notably by adding Braille signage and special equipment for those with mobility issues.
Disability-related travelers now have a designated "assistance point" at the airport to get assistance with check-in, security screening, and boarding their flights.
Wi-Fi at Cartagena Airport
You'll be glad that the airport offers free Wi-Fi if you need to complete some work or keep connected.
Baggage Claim at Cartagena Airport
At the airport in Cartagena, baggage claim is located on the first level in the Arrivals section. Please proceed to the baggage claim area to find your flight's baggage carousels to retrieve your belongings.
Please wait until all the bags have been unloaded from the carousel before attempting to grab yours after you've found it. Please ask a staff member if you need help; they will assist you.
Information Desk at Cartagena Airport
For any inquiries regarding your flight, the information desk at the airport in Cartagena is the best place to go. You can get assistance with everything from helpful and professional personnel.
Smoking at Cartagena Airport
Only authorized smoking locations are allowed at the airport in Cartagena.
Lost and Found Section at Cartagena Airport
Near the information desk in the main terminal of Cartagena Airport is a lost and found department. Please go to the lost and found area and fill out a lost item report if you've lost something.
Add as much information as possible about the object, such as a description, the time and location of its most recent sighting, and your contact details. The staff will look for your item after you file a complaint, and if it is discovered, they will contact you.
Restrooms at Cartagena Airport
The Departures and Arrival levels of the airport in Cartagena are where the restrooms are. Every bathroom has baby changing areas, paper towel dispensers, and waste bin liners. Additionally, both locations include accessible and family toilets.
Nursing Mothers Station at Cartagena Airport
Cartagena Airport has set up a Nursing Mothers Station to better serve nursing mothers. In the terminal, close to the family restroom, is the station.
It features a sink, a comfy chair, and a changing table. The sink offers running water and a spot for bottles and other nursing necessities.
ATMs at Cartagena Airport
There are many ATMs across Cartagena Airport if you need to grab cash before your trip. In addition to the main terminal building, you may find them in the arrivals and departures sectors. You should have no trouble getting the money you need because most ATMs accept popular credit and debit cards.
Currency Exchange at Cartagena Airport
Let's say you want to exchange money before going to Cartagena. In such a scenario, one of the most incredible places to do it is at the airport. Shop around before choosing a kiosk or booth because a few different ones provide affordable prices. Most places accept US currencies and Colombian pesos, so you ought to be able to choose one that suits your requirements.
Food and Beverages at Cartagena Airport
Food & Beverages at Cartagena Airport Visitors will discover a wide selection of food and beverage options at Cartagena Airport. Everyone can find something they enjoy, from fast snacks to seated meals. Passengers can also have a snack wherever they are in the airport because there are several eateries and cafés before and after security.
Shopping at Cartagena Airport
There are many businesses to select from, doing shopping at the Cartagena Airport simple and convenient. From duty-free goods to trinkets and regional crafts, everything is available. You can undoubtedly discover anything within your financial range because the prices are also quite fair. The airport is the best location to go if you want to unwind and do some shopping before taking out.
Pet Relief at Cartagena Airport
There's no need to stress about where to take your pet for a toilet break if you're traveling with them. Your pet can stretch its legs and use the restroom before boarding the aircraft at Cartagena Airport's designated pet relief area.
Ticketing Services at Cartagena Airport
The airport in Cartagena provides a wide range of ticketing services, such as domestic and international flight tickets, hotel bookings, rental car reservations, and more.
Was your flight delayed or cancelled?
You may be eligible to receive up to 600 EUR compensation per person in your party..
Claim Now!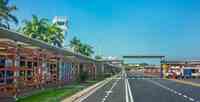 Things to see and do in and around Cartagena City in Colombia